About a month ago, I was inspired to volunteer for a work day with some local Pagans. The thing that inspired me? Seeing Christian mom bloggers bashing Pagan mom bloggers and watching the Pagans have more grace than many Christians did. The kindness they expressed while suffering from the cyber 'witch hunt' stopped me dead in my tracks. I had the most wonderful opportunity to get to know these bloggers better and they have been quite gracious to me and all my questions about their faith. The more I read their blogs the more I realized we had something really incredible in common. So I spread my wings and ventured out to the local park work day with the local group of Pagans in my town. After spending a few hours having a fantastic discussion with my new friend, Stella, I became more intrigued with their spirituality. I decided to go to their Lughnasadh High Day Ritual.
I knew that much of the traditions of Christianity are pagan as it is, but discovering what I witnessed this last Sunday was more than I could have imagined. It was just a few years ago that I began discovering the paganism that was weaved into the fabric of Christianity and my horror (at the time) of such discoveries. It was part of the reason we left the church we were at. Many pastors have accused Frank Viola of breaking up congregations over his book Pagan Christianity and yet his book only touched the hem of the garment on just how much Christianity really is like Paganism.
Some may be in fear for me and my family as we have taken this incredible journey, but I can assure you that my friendship with Pagans has solidified my faith in Christ more than I could have imagined. Yes, their own spiritual journey has deepened my own. But not because they are 'opposite of Christ' or 'of the devil' like many Christians claim. In fact, I have seen more Christ (Anointing) in their spirituality than I see in many churches today.
We arrived at the Council Ring in our local park on Sunday, not really sure what to expect. Stella had shared with me a little bit about what the rituals are like and what etiquette to follow. I said hello and they welcomed me warmly. Stella introduced me to everyone as a "Liberal Christian" and while that term might sound accusatory coming from a Conservative Fundamentalist, coming from Stella it was a compliment I gladly accepted.
Within my heart and mind I wondered if the Pharisees thought Jesus was a Liberal Jew and if so then I must be following a good path.
They were kind in allowing me to take a few photos before they got started and their altar reminded me of other native tribes in American history. When our family visited Knott's Berry Farm last summer, we got to watch a Native ritual in full costume that was gorgeous and truly inspiring. I was so excited to be able to witness this pagan spiritual ceremony.
I was fascinated with the metaphors being used in the Lughnasadh ritual such as the tree of life, the fire within, and the water to give us life. These are terms I am very well acquainted with in Christianity so my heart swelled large as I heard the Spirit of God speaking to my soul as these Pagans recited their words of worship. The service was very similar to a traditional Christian church in that they had opening prayers, songs, and traditions to express their faith. One surprising aspect was how they had a special prayer outside the circle to inform the adversary that it's place was outside the circle and not to intrude. I have heard many Christian congregations include prayers that God will put angels of protection around the building so that enemies of the soul do not interfere with the worship.
As the ceremony continued, each individual had opportunity to give their offering to their deities. This is where I saw some differences that had me awe struck. Each person had the freedom to give whatever offering they felt inclined to give. There was no judging, no nudging and eyeing for their friend's wallets, and all offerings were honored as sacred. Oats and corn meal was offered to the Nature Spirits and sprinkled upon the earth around the circle. I'm not offended or fearful of this, as I know many Christians believe that they too entertain angels unaware. In fact, in Christianity we are taught that when we serve the homeless we are serving the Lord Jesus. We are taught that when we are good to the earth we are honoring the gift that God has given us. Every act of kindness we extend to others is an act of worship of the Divine.
As the fire smoldered, a gentleman came and gave an offering of oil and poured the offering over the fire. This reminded me of the Holy Spirit being the oil of gladness and how many Christians anoint their homes and the sick with oil when they pray for blessings, protection, and healing. A woman came forward and gave an offering of incense and another placed lavender in the fire for her offering. The aroma was sweet and it reminded me of the days when the people of the Old Testament would offer incense to the Creator as a sweet smelling savor.
Then came the prayer requests..and my heart swooned as they shared their deepest longings and requests for guidance for big decisions in their lives. But hearing their prayer requests was so different than what I was used to. Their requests came with such a sacredness and trust for whatever would come their way. Tears flowed from my eyes and my heart enlarged. Within my heart I embraced these prayer requests as if they were my own and my inner being felt so full with community. They ended each prayer with "So be it" and I stood in agreement for their petitions.
Then came the time for praise and each lovely soul gave praise in their own unique ways. The praise of song came in an Irish song in honor of Lughnasadh Day, sang a capella by one of the men.
And at last they had their final ritual of drinking apple juice, although I don't know if they always use apple juice, but it reminded me of the Lord's Supper…and I partook. I drank in honor of the Divine and gave thanks in my spirit for these lovely folks who allowed me to witness their worship ceremony.
When I left organized religion, I fasted from all rituals so I could figure out why I followed those church rituals and see if rituals were even needed in my spiritual journey. Although I did not practice all their rituals, taking of the juice was my own reminder that all of life is sacred and to give thanks for that which we have been given. I gave thanks for my new found friends. I felt at home.
We then had a few hours of fabulous fellowship and enjoyed all the goodies everyone brought to snack on. They are a teaching group and are very open to the questions I had and were incredibly patient with me as I tried to make sense of some things and sought to reconcile their traditions with that which I was taught for so many years in Christianity. All of a sudden the Pagan and Christian rituals made perfect sense to me. I'm not sure I will participate in rituals of any kind very often, because of all the years of coerced rituals, but I do have better clarity on them now. I can see the beauty in them.
Who would have thought that my own faith in Christ would be deepened by the beauty of the spiritual ceremony of Pagans? Perhaps it's because Pagans and Christians have so much more in common than we realize.
Am I converting to Paganism? I don't think the word pagan or paganism is accurately described by many Christians today, because so much of what is woven into the traditions of the churches really is pagan in origin anyway. In addition to that, according to the Bible, anyone who is not a Jew is considered a pagan (gentile) and I am not of Jewish lineage. If I lived in the days of the book of Acts, my family would be known as Pagan (Gentile) Believers (Acts 15:23, Acts 21:25).
During my fellowship with this spiritual community I stated that I don't know what I am anymore. I believe in Jesus with all my heart and yet my faith in him is quite organic. I'm not a traditional Jesus Follower. I yield to him in the Spirit and follow as he guides me in loving the Divine and my neighbors as myself. I can see him and hear him in all sorts of ways including nature, the Bible, pagan rituals, and even in many movies that come out of Hollywood. I don't align myself with organized Christianity, because I want my faith to grow organically, but I do gather with other people who have faith in Christ….and I gather and fellowship with folks who believe in other deities. The thing that I hold as sacred is life and the life that is within us all. The true life of love, that inward spark that is fanned by those we are in community with, that love that is a flame within us that keeps the light on when life seems to get dark.
Home is where the heart is and I found a lot of heart with my Pagan neighbors that day. I don't profess to understand everything they believe nor am I any kind of authority on paganism, but I know that these new friends are dear people with hearts and lives that are touched by their faith and I am glad to call them neighbors. I embrace them as spiritual kin in my own journey to understanding the Divine. For those who thrive on the witch hunt, use caution in condemning them, you may be washing their feet in the afterlife some day.
1 Corinthians 13:13 So now faith, hope, and love abide, these three; but the greatest of these is love.

Galatians 5:14 For the whole law is fulfilled in one word: "You shall love your neighbor as yourself."
**Edited to add..I received an honor from the Green Witch for this post. Of which I am thankful and honored. You have all lifted my soul and I thank you for all your kindnesses.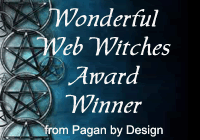 (photos taken with my Samsung Android's Lightbox Camera App)